In their Scenario-Based Strategic Sourcing webinar, SimWell showed how network optimization and simulation help balance pricing, costs, service levels, and more when selecting suppliers for goods and services. The webinar shows how companies optimize profits while remaining agile and responsive to changing business conditions by using anyLogistix supply chain software.
Accounting for future unknowns
The process of qualifying, assessing, and selecting suppliers quickly involves many variables and considerations. In a steady, business-as-usual, scenario, pricing may be the primary factor when choosing a supplier. However, if there is a unexpected increase in demand, lead times will become important. Getting the balance right between cost and lead times may be the difference between making a profit and missing the opportunity.
The ability to understand how suppliers will respond to different real-world possibilities is the reason for scenario-based strategic sourcing.
Data-driven decisions
Choosing the wrong supplier for goods or services can impact businesses in many ways. It may be typical when selecting a supplier to balance needs such as quality, speed, and cost but it can become difficult to predict the consequences of any trade-offs. For example, there may be negative effects on costs, service levels, quality, risk, and revenue. These relationships can be seen in the diagram below.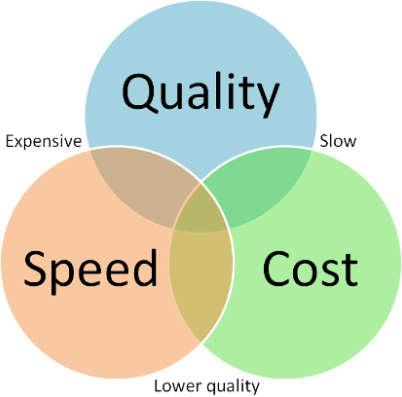 Relationship between quality, speed, and cost for goods and services.
For example, if high-quality goods/services are a priority, then the speed of delivery and cost will trade-off against each other. Likewise, decisions on acceptable quality and cost will need making if speed is a primary concern.
Even with all the relevant data for making good strategic sourcing decisions, it can be difficult to make sense of it and develop the necessary insights to act in confidence. While spreadsheets can hold this data, they can be difficult to navigate and only provide a static point of view. A better solution is to use a supply chain tool that can provide a dynamic view of processes, simulate scenarios, and optimize solutions.
As the webinar shows, anyLogistix is specially designed for supply chain optimization and simulation. Experiments let you establish a baseline and compare it against various scenarios. The result of these experiments for supply chain decision-makers and managers enables confident, effective, and efficient decision-making because the results are easily understood.
Alex Franco, a senior supply chain consultant at SimWell, demonstrates in the webinar how anyLogistix enables scenario-based strategic sourcing in a supply chain. The demo includes:
Current Baseline
Supplier 1 Scenario: Offers 1 product with a reduced unit price
Supplier 2 Scenario: Offers 1 product with a Volume Discounts incentive
Supplier 3 Scenario: Offers 2 products with the capability for direct shipment to a certain radius
Manage those multiple suppliers and their business offer(s) in one scenario – scalability
View each supplier individually to see how they would perform
Compare all potential scenarios to baseline
Multiple other vendor/suppliers offers ALX can capture
View the webinar recording to see the demos and scenario-based strategic sourcing in action.
Scenario Based Strategic Sourcing with anyLogistix
Watch the webinar on YouTube.
Also, read our white paper and discover how anyLogistix's capabilities are used for supply chain transportation optimization and simulation.
Download the white paper